Who We Are
Evidentrust Financial Services Ltd  (Evidentrust) is a Certified Public Accountants and Registered Auditors firm, based in Limassol Cyprus and regulated by ICPAC. Evidentrust was formed with the objective of maximizing the value clients receive from financial services including International and Cyprus audit and accounting services. Therefore, our firm's culture and operations have been structured based on five distinctive values – Excellence, Trust, Integrity, Respect and Enhancement. As such, we are able to provide consistently high quality financial services.
What We Do
Evidentrust provides value-adding Audit, Accounting, Tax and Advisory Services for International and Cyprus companies. In addition, we specialize in the provision of external audit and internal audit services for financial service organisation, including asset managers, funds and brokers. Our experience has been cultivated by serving International and Cyprus companies.
Cloud Accounting Services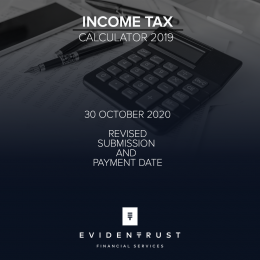 ANNOUNCEMENT The Tax Department announced that the date of submission of the 2019 Income Statement for: (a) employees and...
Read More