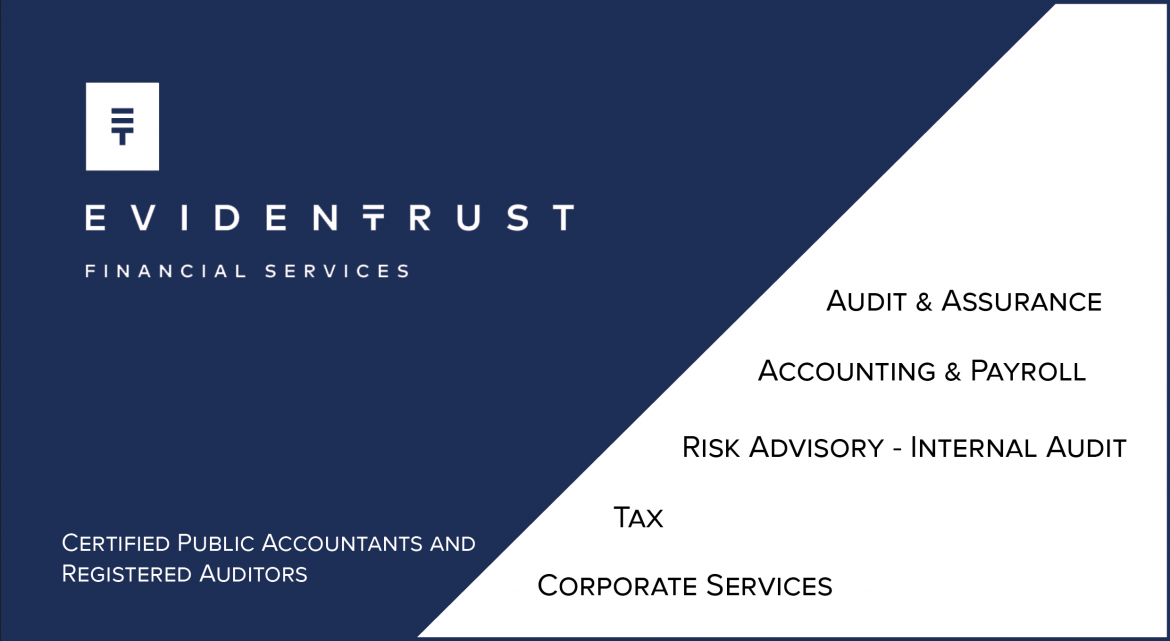 Introducing our Expanded Range of Services
We are delighted to introduce our expanded range of services and to be able to call ourselves Certified Public Accountants and Registered Auditors.
Our firm is now regulated by ICPAC ("Institute of Certified Public Accountants in Cyprus") and has obtained license to provide Accounting (E989/G/2018) and Audit services (E989/A/2018).
On top of our specialised internal audit services, our services have now been expanded to cover external audit & assurance services, accounting services including payroll services, tax services and corporate services. Our Values (Excellence, Trust, Integrity, Respect and Enhancement) will continue to drive our services with the objective of maximise the value passed to our clients.
Our Range of Services
---
Audit & Assurance Services
Our Audit & Assurance services are tailored to meet our client's unique business characteristics which enables us to provide value adding services starting from day one with the minimum business disruption.
Through our in-depth knowledge and experience in risk based engagements, our Audit & Assurance team is able to effectively apply a risk based approach which enables the execution of an efficient and effective engagement.
Performing Statutory Audits based on the In-ternational Auditing Standards (IAS).
Drafting and compiling Financial Statements based on the International Financial Report-ing Standards (IFRSs).
Filling of Financial Statements to Regula-tors (CySEC) and other governmental bodies (Taxation, VAT Authorities).
Conducting Management Letters to the Company's Board of Directors sighting areas for improvement.
---
 Accounting & Payroll Services
Our Accounting & Payroll department deliv-ers reliable outsourced accounting services in-line with the requirements and unique characteristic of each organisation. Our de-partment is staffed with qualified individuals with experience in accounting, auditing and tax services.
Coupled with our internal review proceduresour department is able to deliver top-notch accounting services.
Our Accounting Services
Bookkeeping: Systematic and comprehensive book-keeping services keeping accurate and updated accounting records.
Management Accounts: Insightful and detailed management reporting with the objective to im-prove management information and decision making.
Financial Statements: Preparation of financial statements compliant with the International Ac-counting Standards (IAS) and Interna- tional Financial Reporting Standards(IFRS).
Our Payroll Services
Payroll Calculations: Preparation of weekly and/or monthly pay-roll calculations correctly accounting for all contributions and deductions.
Payroll Reporting: Preparation of monthly Payslips, Payroll analysis and Journal Entries for account-ing.
Tax Compliance Support: Timely preparation and submission of an-nual tax returns e.g IR63 (Employees' Cer-tificate of Emoluments), IR7 (Employer's  Return), etc.
---
Risk Advisory - Internal Audit
Our Risk Advisory service line specialises in the provision of Internal Audit services for financial service companies including asset managers, brokers and investment firms.
The Risk Advisory team has knowledge and exposure in Internal Audits, Compliance/Legal and IT areas, therefore, we are capable to de-liver a comprehensive range of Internal Audit services. Our people have had substantial ex-posure in servicing the financial services sector in Cyprus and abroad, covering the FCA and CySEC jurisdictions, which enables us to bring insight and knowledge to our clients.
Our Internal Audit Services
Outsourced Internal Audit Services
Co-sourced Internal Audit Services
External Quality Assurance
Internal Audit Transformation
Internal Audit Advisory
---
Tax Services
Corporations and individuals are required to con-tinually comply with direct and indirect tax require-ments. Our Tax services are tailored to meet our client's unique requirements through a reliable and personalised service.
Our Tax services can be offered either as stand- alone tax support service or as integrated service through the provision of other related services such as accounting and payroll services.
Our Tax Services
Tax registration and tax returns preparation
VAT registration and preparation for submission
Social Insurance registration and filling/payment assistance
Assistance in the preparation of personal tax returns
Tax compliance advice
---
Corporate Services
Our Corporate Services team, along with our ex-ternal partners, aim to assist our clients in comply-ing with the applicable corporate, legal and statu-tory requirements. The range of our Corporate Services consists of registration services, legal support and company administration support.
Our Corporate Services coupled with our auditing, accounting, payroll, tax and risk advisory services form a complete bundle of reliable-high quality services.
Our Corporate Services
Registration Services
Legal Services
Company Administration Services
---
Download our brochure